Pad Print (Artwork format: vector)
Pad printing uses a silicone pad to transfer an image to a product from a laser etched printing plate. It is one of the most popular and affordable ways of branding promotional products due to its ability to reproduce images on uneven or curved products and print multiple colours in a single pass. A setup charge is required for each colour.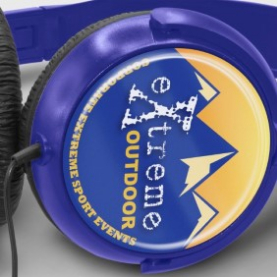 Resin Coated Finish (Artwork: vector)
Resin coated finish is produced by printing the artwork onto a vinyl material with strong adhesive on the reverse. The branded area is coated with a crystal clear resin which is allowed to dry. Once dry, the finished decal is applied to the product and the adhesive forms a permanent bond. Please allow for the possibility of 3mm bleed.
Rotary Digital Print (Artwork: vector)
Direct to product rotary digital printing involves the transfer of UV ink directly from inkjet print heads and can be used to produce both spot colour and full colour branding. This method is more expensive, lead times is longer and metallic silver or gold can't be reproduced. PMS colours are only approximate.